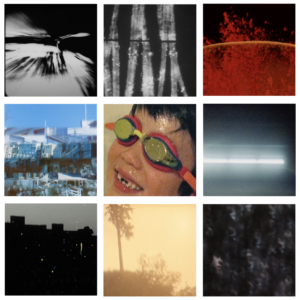 FILM SCREENING
16mm Experimental shorts by AFW Melbourne
Saturday, August 13th, 2022,
Doors: 7pm
Screening: 8pm
We are very happy to welcome Lucas Haynes from Artist Film Workshop in Australia with a lot of film prints!
16mm prints only
running time 92min
Initiated by filmmakers Richard Tuohy and Dianna Barrie, Melbourne's Artist Film Workshop (AFW) began as a series of workshops and film-only screenings in 2011. After 18 months, a lab space was inaugurated in 2012 with more than 20 founding members, who constructed a wet lab, dry dark room, common space and screening room. The lab is furnished with cameras, projectors, printers and editing equipment. In addition to these facilities, AFW runs a regular program of public screenings and workshops with a strong emphasis on teaching and learning. AFW operates as a central hub for individual and collaborative film activity, with all decisions made and financed by lab members.
http://www.artistfilmworkshop.org/
Films in the program:
Callum Ross-Thomson, Fade, 2017 (6 mins)
Audrey Lam, Is Anybody Coming to Dinner, 2022 (9 mins)
Lucas Haynes, Sensor Lights in Flemington, 2022 (10 mins)
Paddy Hay, TIANGONG-1, 2018 (8 mins)
Dianna Barrie, Self Portrait With Bag, 2020 (6 min)
Richard Tuohy, Valpi, 2019 (9 mins)
Angus Peter,caterpillar reaction (7 min)
Hanna Chetwin, Watercourse (5 min)
Aditya Martodiharj, Row Row, Forward we go, 2021 (12 mins)
Samaan Fieck, Kangaroo Apple (9 mins)
Supported by Stadt Wien and Bundesministerium für Kunst, Kultur, öffentlichen Dienst und Sport.
Details to the program:

Paddy Hay and Louis Marlo, TIANGONG-1, 2018 (8 mins, Super 8 > 16mm Blow-up)
TIANGONG-1 is the name of the Chinese Space Station that crashed to earth on 2
April, 2018.
Paddy Hay is a filmmaker whose work encompasses experimental, narrative and
documentary styles. His approach to filmmaking is embedded in small gauge film,
and underpinned by a DIY approach to storytelling and cinematic ideas. He has
presented his films at major film festivals and film institutions including the
Internationale Kurzfilmtage Oberhausen, The Austrian Film Museum, Melbourne
International Film Festival, and The Australian Centre for the Moving Image.
Louis Marlo is a Melbourne-based Composer, Sound artist and the owner of Felt
Sense Records. His work revolves around the marriage of processed based
electronics, hand cut tape manipulations and a sonic response to the moving image.

Richard Tuohy, Valpi, 2019 (9 mins, 16mm)
The Chilean city of Valparaíso is nestled among hills, overseeing the Pacific Ocean,
in the vicinity of active volcanoes and perilously close to the boundary between two
tectonic plates. Evoking this fault line, Valpi (Tectonics) is horizontally segmented,
creating an immersive yet abstracted chronicle of both the multifaceted layers of
human life in this place and the politico-cultural fractures hidden beneath the surface.
Bio:
Staunch advocates for the possibilities of hand made cinema, Tuohy and Barrie have
devoted much time and effort in sharing their knowledge through workshops and
classes. Their films and performances have screened at venues such as Melbourne
Film Festival, EMAF, Rotterdam IFF, New York FF, and Media City and they have
repeatedly toured Europe, the Americas and Asia presenting solo programs.

Audrey Lam , Is Anybody Coming to Dinner, 2022 (9 mins, 16mm)
The adventures of Yokitom around the home and across the seasons, with a
supporting cast of family and friends.
Bio:
Audrey Lam studied screen production and photography at Queensland College of
Art. Her films have been screened at many festivals and museums, including
International Film Festival Rotterdam, BFI London Film Festival, Internationale
Kurzfilmtage Oberhausen, Visions du Réel, the Centre Pompidou and the Asia-
Pacific Triennial. Audrey has participated in arts workshops and residencies including
Fondazione Antonio Ratti Advanced Course, Locarno Filmmakers Academy and
Asialink Arts Residency. She has co-curated film seasons at the National Gallery of
Victoria and Australian Centre for the Moving Image.
Dianna Barrie, Self Portrait With Bag, 2020 (6 min, Super 8 > 16mm Blow up)
A camera-less portrait of the artist. Super 8 cartridges placed inside a black cotton
bag, the film advanced via a hand crank. The tiny gaps in the fabric weave make for
dozens (hundreds? thousands?) of tiny pinholes.
Bio:
Dianna Barrie (b. 1972, Melbourne) found her way into filmmaking as a middle
ground between the pursuit of abstract music and philosophy. Ever pushing the limits
of the hand processing of super 8 led to the establishment of nanolab with Richard
Tuohy, and into the intersection of hand making and industrial cinema technology.
This exploration has spread beyond individual work to the establishment of Artist
Film Workshop, where celluloid is embraced and advocated by a community of
practitioners in Melbourne. Dianna is a well known figure in the international artist
run film labs scene.

Callum Ross-Thomson, Fade, 2017 (6 mins, 16mm/Super 8 source > 16mm print)
Found footage taken from a long forgotten, badly scratched and faded
16mm educational film print on volcanoes, superimposed atop recently shot 16mm
macro footage of a human skull. The skull is a similarly neglected teaching aid, once
used for anatomy classes many decades ago before the use of real human remains
in schools became less common in favour of more durable, socially sustainable
plastic models.
Bio:
Callum runs Memorylab, a motion picture film scanning facility in Melbourne,
Australia & moonlights as an experimental filmmaker.

Lucas Haynes, Sensor Lights in Flemington, 2022 (10 mins, 16mm)
Lights turn on and off in a building in the distance.
Bio:
As a small child Lucas used to collect chicken bones off plates at food courts. He
would then take them home and order them in size before fitting them into Lego
structures. Now he makes films about buildings and people.
Hanna Chetwin
Hanna Chetwin is an Australian filmmaker working primarily in experimental film. Her
practice draws on photographic, camera-less imaging techniques alongside filmed
footage of everyday and environmental minutiae to create rhythmic structural film
works, often developed in collaboration with Australian exploratory musicians.

Aditya H. Martodiharjo
(Bandung, Indonesia), mostly bo-ri-ng, Opinion Controller of Kammeretas and Komando
Laboratorium Workshop of Lab Laba-Laba, at the moment he is experiencing the near-artist
experience. Many of his works are produced in a non-linear way, always spontaneous, with
little objective on how the work will look in a more traditional aesthetic sense. Notepad
method glitch, Toys generated glitch, Cinema 4d and Processing are some of the tools that
he constantly uses.

Angus Peter
Angus likes to walk through the bush sometimes he takes a camera.

Samaan Fieck, Kangaroo Apple
lives on Gadubanud land, north of the Southern Ocean, surrounded by the Otway Ranges. He is the
host of More Than the Ear Can Hold, a weekly broadcast on Apollo Bay Radio (3abr). He has exhibited /
performed throughout Australia, Taiwan, Japan and New Zealand at; The Centre for Contemporary
Photography, ACMI, Lacking Sound Festival (Taipei), Treasure Hill Artist Village (Taipei), Avantwhatever
Festival and CAST gallery (Hobart) among others. Since moving to the Otways he has provided the
composition and sound design for The Sublime and Remain In Light, in collaboration with These Are
The Projects We Do Together. He is an active member of Red Wine and Sugar, with Mark Groves.

Scheduled
Events Screening
8, Komödiengasse, 1020, Austria
Map