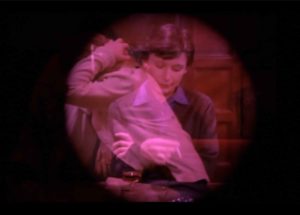 SCREENING & ARTIST TALK
8. Mai 2021, 18:00, online
(registration: info@filmkoopwien.at )
The program presents films, or queer cinematic errantries, made by Rafal Morusiewicz, a queer researching artist, born in Augustów (Poland) and currently based in Vienna.
Their filmmaking practice mixes found footage material with samples coming from films, music videos, and audio tracks, as well as text, which is original, quoted, or paraphrased. Through this collaging practice, Morusiewicz generates audiovisual and textual sites, full of fragmented autobiographic, fictional, and theory-based stories, sites that intersect multiple histories, politics, social realities, and cinemas.
While drawing from the body of films made in Polish People's Republic (1952-1989), Morusiewicz performs on them acts of "disidentification," which is a concept described by José Esteban Muñoz in his 1999 book, titled Disidentifications: Queers of Color and the Performance of Politics. Muñoz conceptualizes "disidentification" as a queering hybrid writing method that performs dominant signs, images, and discourses in ways that restructure spectatorship through colliding various temporalities and diegeses.
In his writings Morusiewicz states: "For me, disidentification serves the purpose of "meticulously scraping layers, after layers, after layers of heteronormativity and normalcy of the cinema film material, which, in many cases, represents the heteronormative, heterosexist, and chauvinist gender and sexual politics, present in the films of the Polish People's Republic. It is also a tool of critically approaching the unreliability of my own memory of affect, of watching the source films years before, as a teenager, and forming emotional attachments with what would happen on screen, without being aware of the frequently problematic and violent context in which the films originated."1
The presented films in this program testify to Morusiewicz's understanding of film practice as an ongoing process that stretches beyond the completed films. Since both remixing and disidentification rely on repetition, Morusiewicz frequently returns to specific scenes, images, or sounds, and casts them again in changeable contexts "embracing the scenario in which, for me, there may never be a final version of a text or a film."2
—–
1 and 2 from PhD Thesis "Remixing Polish Film History: Self-Contaminations, Queer Interventions, Affective Conjurings" (2020).
BIO:
Rafal Morusiewicz, PhD, is a Vienna-based gender non-binary researching visual artist, writer, curator, and educator. They are the author of two doctoral theses: a "PhD-in-Practice" project at the Academy of Fine Arts Vienna (titled "Remixing Polish Film History: Self-Contaminations, Queer Interventions, Affective Conjurings"), dedicated to the "queer remixing" of Polish "communist" film, and a dissertation at the University of Warsaw (titled "Between Resistance and Assimilation: Queering Strategies in Polish Film after 1989"), which performs a "queer reading" on several recent Polish films. Their artistic research/practice has led to a number of experimental films, screened at film festivals, exhibition venues, and online platforms.
The program:
The Joke, 5.05 min., digital video, 2015
The Lived, 5.15, digital video, 2016
The River Is a Cemetery, 9 min., digital video, 2016
copia de la copia (de la copia), 23.13 min., digital video, 2020 total: ±43 min
The Joke (2015) is a short film reminiscing about the illicit relationship between the two protagonists of Egymásra nézve (Another Way, dir. Károly Makk, 1982), as well as the non- diegetic narratives about the film. The protagonists, played by two Polish actresses and later dubbed in Hungarian, the protagonists were dubbed by Hungarian voices, represent the first film in Poland and Hungary to have at its center a lesbian romantic-sexual relationship.
The Lived (2016) is one part of my diptych that fabulates on the homoerotic friendship of the two protagonists of Jak daleko stad, jak blisko (How Far Away from Here, How Near, dir. Tadeusz Konwicki, 1971). Told through implications and silences, their story is juxtaposed with audiovisual and textual quotes from Querelle (dir. Rainer Werner Fassbinder, 1982) and Fast Trip, Long Drop (dir. Gregg Bordowitz, 1993), both of which rhyme homoerotic desire with friendship, loss, and mourning.
The River Is a Cemetery (2016) is a remix of Z daleka widok jest piękny (It Looks Pretty from a Distance, dir. Anka Sasnal and Wilhelm Sasnal, 2011), screened during the ASCA workshop (University of Amsterdam, March 2016) as a film companion to the text on the chronopolitical disposition of language and its opacity. The latter provides a filter and a contaminator to the violently heterosexist male habitus of the Polish countryside, juxtaposed with the latter's barely acknowledged reminder of the multiple deaths of Jewish Poles around WW2.
copia de la copia (de la copia) (2020) compacts several years of my "PhD in Practice" project on queering/remixing Polish films at the Academy of Fine Arts Vienna. It contains quotes from more than 20 films made in Poland in 1952–1989, along with samples from film soundtracks, music tracks, and elsewhere, i.e. vintage gay porn movies, music and home video films, and social media clips. While reaching towards the past, both socio-political and personal, the film also reacts to the current socio-political situation in Poland, with the introduction of "LGBT free zones," violation of democracy, police brutality, and state censorship.
The event is free. However, registration is required. Please, send us an e-mail  info@filmkoopwien.at
We will send you a link for the event.