DEATH OF AN IMPOSTOR: ENIGMA OF THE SIBERIAN DREAM (AT 2019, 25min)
Freitag, 13. März, 19:00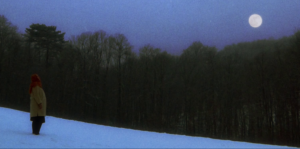 At the end of the Second World War, a nameless Russian soldier, captured at Saratov, is claiming to be one of the lost Romanovs. Soon he escapes from the German captivity, in an attempt to reach his home in Siberian Krasnoyarsk. Wounded, he starts his journey through freezing Russian landscape. 
"In this short experimental cinematic winter-dream, we engaged with the subject of inevitability of destiny and its relation to identity. We aimed to structure it as a Freudian metaphor of death and immortality. Our goal was to engage with the social disparity between the nameless and the eternal, with a touch of absurdity, magic and lots of snow." – Edo Muric, director of Death of an Impostor
Further Information: http://www.enfantsauvage.at/
Freitag, 13. März 2020
Open Doors 18:30 | Screening 19:00 (pay as you wish)
filmkoop wien | 8., Wickenburggasse 15/Stiege 3 (Innenhof)
Scheduled
Screening
Wickenburggasse 15/3/1b, 1080 Wien
Map