Super8 Workshops 2019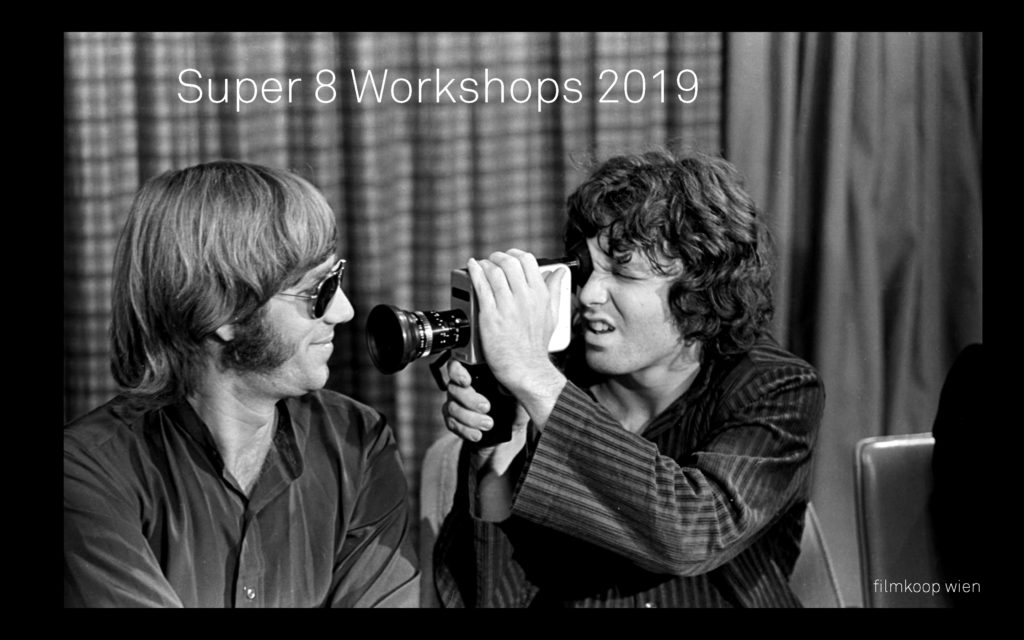 A workshop takes one weekend. These are the possible dates:
 Workshop: 13. & 15. September 2019
Workshop: 25. & 27. October 2019
Workshop: 8. & 10. November 2019
The aim of the workshop is to give an overview of the Super8 film format and to learn how to work with the material, the cameras and the projectors. This workshop is for total beginners and advanced filmmakers. At the end of the workshop the participants will know the basic workflow of working with analog film: Loading the camera, filming, processing in the darkroom, editing, projecting it onto the screen.
 Friday, 7pm – 9pm
(Introduction, Theory, Examples & Rental)
 Sunday, 2pm – 7pm
(Processing, Editing, Projection)
 Workshop fee: € 150,00 + € 40,00 Super8 Black-White-Film (Kodak TriX)
On Friday the participants will get a general introduction of working with analog film, focusing on handling the cameras and the material. We will discuss the Super8 format, its history and watch some examples.
After that, the participants have time to shoot their own Super8 film.
On Sunday we will meet again and process the exposed film in the darkroom. Eventually the film will be projected onto the screen at filmkoop's cinema.
The workshop is held by Stefanie Weberhofer and is limited to 4 people.
Registration to steffi[at]filmkoopwien.at
The workshops are held at filmkoop wien. The use of the equipment during the workshop (cameras, processing tanks, splicers, projectors, …) and the chemistry are included in the workshop fee. If you have your own camera, you can bring it!
Workshop language is German and/or English.
3 other dates:
Scheduled
Workshop
Map