Introduction for new members
We are accepting new members
Application Deadline: October 1st, 2023 via email
Introduction: October 7th, 2023, 2PM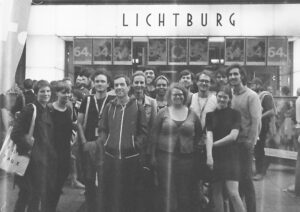 filmkoop wien is a self-organized, grass-roots democratic association of independent filmmakers, who work mainly, but not only, with analogue film.
Important:
If you want to become a member, please apply until October 1st via email to info@filmkoopwien.at.
The mandatory introduction will be on October 7th, on 2PM.
The payment of the membership fee is due to October 6th.
If you have never been at filmkoop before, please come by at our Journaldienst.
Membership at filmkoop wien includes:
– access to all the rooms, including darkroom, workroom and micro cinema 24/7
– full access to filmkoop's equipment (cameras, projectors, editing tables,…)
– the chance to buy film material at a reduced price in our shop
– the possibility to hold events and screenings at filmkoop wien's screening room
– to take part in the filmkoop's democratic decisions regarding e.g. equipment purchases, screenings…
– the possibility to network and exchange specialized technical knowledge with other filmkoop members in meetings and workshops.
Membership fees:
The yearly membership fee is € 365,00.
You can choose to pay once a year or in installments, which amounts to € 31,00 monthly.
In any case we charge a handling fee of € 10,00.
We are looking forward to welcome you onboard!