FILM SCRENNING
Waldarena Krumpendorf
20. August 2022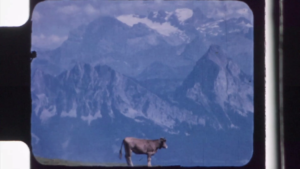 Still von Christian Kurz
filmkoop wien – self-made, analog, cinema!
Kurzfilmprogramm des artist-run filmlabs filmkoop wien
Die filmkoop wien begibt sich auf Sommerfrische an den Wörthersee und zeigt eine kleine Auswahl filmischer Arbeiten ihrer Mitglieder. Die Arbeiten entstanden alle auf analogem Material und zeigen experimentelle wie persönliche Zugänge zu dem Medium Film. Das Programm gibt außerdem einen Einblick in die unabhängige und experimentelle Filmpraxis der filmkoop wien und zelebriert analogen Film als Kunst, Ereignis und Handarbeit.
Programm:
Into the Wild, Markus Maicher, 2020, digital (16mm), 4:30
Wind, Masha Godovannaya, 2019, digital (16mm), 5:30
Kopierwerk, Stefanie Weberhofer, 2020, digital (35mm), 7:08
The Vulcano Project, Johannes Gerhart, 2021, digital (16mm), 9:05
Hannibal ante portas, Alina Tretinjak, 2021, digital (Super 8), 3:05
Die Suche einer verloren geglaubten Sehnsucht, Guillermo Tellechea, 2020, digital (Super 8), 3:45
Licht in der Linse, Christian Kurz, 2016, digital (Super 8), 7:20
10 megabytes of memory, Markus Maicher, 2021, digital (Video 8), 2:04
Dauer ca. 41min
kuratiert von Markus Maicher

Die Veranstaltung ist Teil unseres Jahresprogramms und wird gefördert durch die Kulturabteilung der Stadt Wien (MA7) und das BMKÖS.


Scheduled
Events Party Screening
Krumpendorf am Wörthersee, 9201 Austria
Map